Plans and Reports
HCD issues both federally and state-mandated plans and reports as well as other educational plans and reports designed to educate elected officials (including state legislators) and the general public. (You can view older plans and reports on the Plans & Reports Archive page.)
Residential Impact Fees in California
Residential Impact Fees in California (PDF) — This study was commissioned by HCD pursuant to AB 879 (Grayson, Chapter 374, Statutes of 2017). HCD was required to commission a study about the reasonableness of local impact fees charged to new housing developments. To meet this mandate, HCD contracted with the Terner Center for Housing Innovation at the University of California, Berkeley to prepare a study. The Terner Center is solely responsible for the content of this report. Through outreach, case studies, interviews, and various other methods, Residential Impact Fees in California (PDF) provides an overview and analysis of impact fees in California and suggests findings and recommendations related to fee transparency, fee structure, fee design process, and alternative funding options.
Community Development Block Grant Program -- Report to the Legislature In Response to Senate Bill 106 (Chapter 96, Statutes of 2017)
The federal Community Development Block Grant (CDBG) program is an important tool for helping local governments tackle serious challenges facing their communities—from safe, stable, affordable housing, to creating jobs through the expansion and retention of local businesses, to health and safety improvement projects like senior daycare facilities, fire stations, and medical clinics.
The California Department of Housing and Community Development (HCD) administers the distribution of CDBG funds that come from the U.S. Department of Housing and Urban Development (HUD) aimed at smaller and rural communities that often lack access to other types of financial resources.
In July 2017, HCD embarked on a comprehensive process to redesign the federal CDBG program by analyzing the current structure and identifying ways the program could be improved. HCD partnered with a diverse spectrum of stakeholders and formed the CDBG Redesign Working Group to ensure inclusive and diverse input. HCD also received valuable technical assistance provided by HUD. These collaborative efforts identified and evaluated inefficiencies in administration, requirements, and overall program effectiveness.
Statewide Housing Assessment
Home is the foundation for life. It's where we raise families, feel safe and secure, rest and recharge. Our options for where we live have far-reaching impacts in our lives – from our job opportunities to our physical and mental health, from our children's success in school to our environmental footprint.
"California's Housing Future: Challenges and Opportunities", provides in depth research into California's far reaching housing challenges: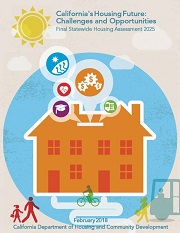 Production averaged less than 80,000 new homes annually over the last 10 years, and ongoing production continues to fall far below the projected need of 180,000 additional homes annually.
Lack of supply and rising costs are compounding growing inequality for younger Californians. 
One-third of renters pay more than 50% of income toward rent.
Homeownership rates are at their lowest in California since the 1940s.
California accounts for a disproportionate 22% of the nation's homeless population.
Continued sprawl will decrease affordability and quality of life while increasing combined housing and transportation costs on families.
In addition to analyzing housing needs and condition, "California's Housing Future: Challenges and Opportunities" presents preliminary recommendations to address California's housing challenges through a ten-year forward looking policy framework.
Related Resources
HCD's Annual Report
HCD's 2016-17 Annual Report reflects back on the fiscal year July 1, 2016-June 30, 2017, highlighting the accomplishments of HCD's dedicated, mission-driven team, and the progress and improvements that raised the bar to better serve California and communities throughout the state.
HCD's Annual CALGreen Report
California Green Building Standards Code (CALGreen) — the nation's first state-mandated green-building code — has been in effect since January 1, 2011. CALGreen was created to improve public health, safety, and general welfare through enhanced design and construction of buildings using concepts that reduce negative impacts and promote principles that have a positive environmental impact and encourage sustainable construction practices.
CALGreen was created to address the five divisions of building construction:
Planning and design.
Energy efficiency.
Water efficiency and conservation.
Material conservation and resource efficiency.
Environmental quality.
View the 2018 CALGreen Annual Report (PDF) to the California Legislature.
Federal Reports Citizen Participation Requirements
The following outlines the Citizen Participation Requirements for the Department's federal reports: Consolidated Plan, Annual Action Plan, Consolidated Annual Performance Evaluation Report and Analysis of Impediments to Fair Housing Report. These Citizen Participation Requirements only apply to the federal reports listed above.
Consolidated Plan 2015-2020
California's Consolidated Plan is a five-year plan that examines the housing and community development needs of Californians and their communities and lays out how federal funds will be used to address these needs and improve the quality of life for Californians.
The Consolidated Plan, submitted to the federal Department of Housing and Urban Development (HUD) and if approved, enables the State of California to administer funds or for the following federal housing programs:
Community Development Block Grant (CDBG);
Home Investment Partnerships Program (HOME);
Emergency Shelter Grant (ESG) Program;
National Housing Trust Fund (NHTF);
Housing Opportunities for Persons with AIDS (HOPWA) program (that's administered by the California Department of Public Health); and
Lead-Based Paint Hazard Reduction Program (that's administered by the California Department of Community Services and Development).
The Consolidated Plan is applicable to jurisdictions that do not receive funding directly from HUD ("non-entitlement jurisdictions") and are eligible to compete for these funds as administered by the state.
California's Consolidated Plan (ConPlan)
2015-2020 Consolidated Plan Amendments
Annual Action Plans 2015-2020
Required by the federal Department of Housing and Urban Development (HUD), the Annual Action Plan is an annual update of California's Consolidated Plan (below).
Annual Action Plans
Annual Action Plan Amendments
Consolidated Annual Performance Evaluation Reports (CAPER) 2015-2020
Submitted annually to the federal Department of Housing and Urban Development (HUD), the Consolidated Annual Performance Evaluation Report (CAPER) provides California's programmatic outcomes.
CAPER
CAPER Amendments
HUD'S Initiative on Regulatory Relief
Governmental and non-governmental applicants are eligible to receive up to two (2) additional points on the evaluation of their application if they are able to demonstrate successful efforts toward removing regulatory barriers to affordable housing. Learn more about HUD's Initiative on Regulatory Relief (PDF).
Qualified state agencies or departments applying for funding — as well as housing authorities, nonprofit organizations, and other qualified applicants applying for funds for projects located in unincorporated areas — are invited to answer the 15 questions in Part B to determine eligibility. Applicants can use the responses provided here (PDF) to answer the questions in Part B.
California's Plan to Affirmatively Further Fair Housing
Analysis of Impediments to Fair Housing
HCD, as a recipient of federal Home Investment Partnerships (HOME) and Community Development Block Grant (CDBG) program funds, must certify that it is affirmatively furthering fairness and equal opportunity in housing for individuals and groups protected by the federal Fair Housing Act of 1968.
HCD must meet this obligation by performing an Analysis of Impediments to Fair Housing Choice (AI) as part of its consolidated planning process for housing and community development programs under the Code of Federal Regulations 24 Part 91. The AI is the state's plan to affirmatively further fair housing and is used to identify barriers to fair housing and develop and implement strategies and actions to overcome these impediments.
The AI broadly analyzes actions and conditions that may restrict housing choice for people protected under State and federal fair housing laws. The AI not only identifies impediments to fair housing choice, but also makes recommendations to overcome the impediments and serves as the basis for fair housing planning, providing essential information to staff, policy makers, housing providers, lenders, and fair housing advocates, and garnering community support for fair housing efforts.
The AI presents a demographic profile for the state, regions, and counties, assessing the extent of housing needs among specific income groups and evaluating the availability of a range of housing choices for residents. The AI analyzes the conditions in the private market and public sector that may limit the range of housing choices or impede a person's access to housing.
Extensive analysis is conducted on the implementation of the state-administered CDBG and HOME programs to analyze the allocation and distribution of CDBG and HOME program-funded housing activities.
Affordable Housing Cost Study
The Affordable Housing Cost Study (2014) (PDF) provides an analysis of factors that influence the cost of building affordable apartments in California. It was issued by HCD, the California Tax Credit Allocation Committee, the California Housing Finance Agency, and the California Debt Limit Allocation Committee.
Designing Affordability: Innovative Strategies for Meeting the Affordability Gap between Low Income Subsidy and the Market in High Cost Areas
Designing Affordability (2015) (PDF) features housing development case studies in high cost California communities on housing for low and moderate-income families that is possible with limited or no state or federal government subsidy. This housing is recent, built in the last decade, and primarily located in regions of California where housing and land prices have escalated, employment has increased, and the demand for housing is extremely high. The lessons offered by these case studies are not a blueprint for project-specific replication, but identify alternative approaches for housing households not typically served by public investment yet priced out of the competitive housing market. This document was prepared for HCD by the California Polytechnic State University, San Luis Obispo.